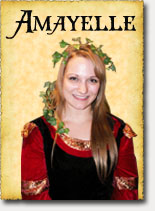 Mère du roi des Elfes (Tome IV): fille du roi
Hamil
et de
Sanadrielle
. Elle tombe amoureuse du Chevalier
Nogait
. Cependant, son père n'aimant pas du tous les humains et puisqu'elle était promise à un autre elfe, le roi refuse de donner sa main à Nogait. Amayelle décide donc de s'enfuir au royaume d'Émeraude pour aller retrouver Nogait. Son père vint la retrouver là-bas pour la faire revenir. Il décide finalement à la laisser épouser Nogait. Elle lui donne un fils nommé
Cameron
, mi-elfe mi-humain. Durant la guerre et malgré qu'elle ne soit pas d'un tempérament guerrier, elle fait partie avec
Jahonne
et
Morrison
de ceux qui protègent le château d'Émeraude lorsque les Chevaliers partent à la guerre. Nogait et elle auront aussi une fille,
Malika
, pressentie pour devenir enchanteresse, puis un second fils,
Alkar
, après la guerre, puisque les femmes Elfes ne peuvent procréer que tous les 10 ans.
Ad blocker interference detected!
Wikia is a free-to-use site that makes money from advertising. We have a modified experience for viewers using ad blockers

Wikia is not accessible if you've made further modifications. Remove the custom ad blocker rule(s) and the page will load as expected.