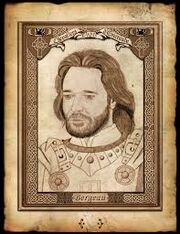 Le Chevalier Bergeau d'Émeraude est le fils d'un bandit du désert qui l'a envoyé au château pour que son fils reçoive une éducation digne de ce nom. Bergeau a la peau mate, des grands yeux mordorés et une stature imposante. Ses cheveux bruns sont longs et lisses. C'est un homme honnête, courageux, fort et l'un des plus endurants des Chevaliers. Toujours souriant sauf si une menace se présentait, il dit tout ce qu'il pense, mais il ne se montre jamais méchant. Il est le meilleur ami du Chevalier
Jasson
d'Émeraude. Il rencontre
Catania
au
Royaume de Zénor
lors de son passage au royaume côtier pour prévenir le Roi
Vail
de la menace des hommes insectes et se marieront dans le tome 3. Ils auront plusieurs enfants dont les jumelles
Broderika
et
Proka
,
Kiefer
qui mourra à la suite de la destruction de la tour de son professeur par
Amecareth
,
Danitza
,
Luca
et plus tard
Kieran
,
Shade
,
Katrine
,
Dieter
,
Matthias
,
Gunther
et
Domenka
. Il fera partie de l'expédition sur
Irianeth
pour aider à détruire l'Empereur. Après la fin de la guerre, il ira s'installer avec sa famille au Royaume de Zéno où ils continueront d'agrandir leur famille au rythme d'un enfant tous les deux ans. Les écuyers de Bergeau seront :
Buchanan
(T1),
Curtis
(T2)
Arca
,
Kumitz
(T3, 4, 5 et 6) et
Bianchi
(ancien écuyer de Buchanan)(T4, 5 et 6), ainsi que
Lianan
(T8, 9, 10, 11 et 12).
Ad blocker interference detected!
Wikia is a free-to-use site that makes money from advertising. We have a modified experience for viewers using ad blockers

Wikia is not accessible if you've made further modifications. Remove the custom ad blocker rule(s) and the page will load as expected.